by Jennifer Bassman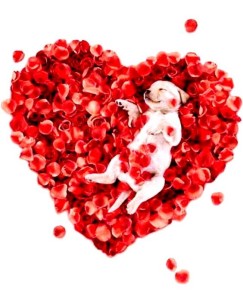 My husband will tell you that he is #5 in our house. The three dogs and I come first, then him. I realized he was right when I found myself planning Valentine's Day treats for our dogs, not him. Over the years, I have learned to focus my puppy love into business opportunities and special care for my clients to take advantage of.
Pet owners relish opportunities to show their family, friends, and anyone else on social media how much they love their pets and the extraordinary they do to care for them. As a pet care business owner, this is marketing and advertising gold for you. We all know the best advertising is through word of mouth. So, give your clients something to talk about.
IT'S NOT ALWAYS ABOUT THE MONEY
Before you begin to think about the expense versus the return on investment, change your definition of those two things. Instead of thinking in terms of money, think about the opportunity to show your clients how much you care about them and their pets. When something is done truly out of love and kindness, it sends a stronger message than a generic gift. Planning a meaningful experience for your clients to enjoy will pay your business back in immeasurable ways.
For example, think about your Facebook newsfeed during the holidays. How often do pet owners post pictures of their dogs in a cute Santa hat or passed out on the sofa with the rest of the family after a big holiday meal? What message does this send to their family and friends? It tells them that their dog is important, loved, and they are proud to have them as a part of their family. The other message: it is the simple things that are appreciated the most.
Two rules to remember as you start planning:
1) Keep it simple
2) Start small
As business owners, we stress that our efforts are not enough or too simple to be appreciated. Pet owners are tickled when you do anything special and thoughtful for their four-legged family member. With each holiday add a little more or do something a little bigger while you determine how your clients will respond and participate.
THAT'S NICE, BUT I DON'T HAVE TIME
Me either. If you have employees, particularly creative employees, this is the perfect project to assign to them. Over the years, I have been fortunate to have creative employees that photography, graphic design, artistic, and craft skills. These projects have provided an opportunity for them to shine while taking some work off of my To Do List. After a meeting or two brainstorming ideas and working with a budget, my employees have come up with some amazing ideas to celebrate our clients on Valentine's Day.
TALKING TO ONE PERSON SOMETIMES MEANS YOU ARE TALKING TO ONE HUNDRED
Social media and mobile phones with texting means something you do could be in front of someone else in seconds. Texting, messaging, Facebook, Twitter, Instagram are all opportunities for your business to be on display to potential new clients within moments. As you plan your Valentine's Day goodie or event, consider its social media portability.
Does this goodie or event represent my business?
What will it look like in a picture?
Is my business name/logo present?
While these questions may seem selfish, the reality is that once your client texts, posts, or tweets, the marketing is out of your control, so you need to do all you can to present the best of your business.
FUN IDEAS FOR VALENTINE'S DAY
Whether you are a big facility or a small facility, an in-home petsitter or an independent dog walker, there are hundreds of ways you can capitalize on this holiday to show your clients you care and your clients can spread the word about the greatest pet care provider in the city. Any one of the following ideas could be adapted to your budget, time, and creative skill.
Valentine's Day cards
Send to their home
Take a picture of their pup and put on card
Create a Valentine's Day card exchange the week prior to the holiday for regular daycare dogs
Homemade dog treats
Special sweet treats for human clients with a note from you or their dog
Kissing booth
Set up the week prior to Valentine's Day and let clients take pictures with their dogs
Tunnel of Love
If you have a hallway or walkway that leads to your daycare or kennel space, create a sign and décor for the entrance
Doggie Weddings
Big or small, we know our pups have favorites at daycare. Why not play in holy muttrimony?
About Jennifer Bassman
Jennifer Bassman is a small business marketing consultant and graphic designer located in Dallas, Texas. She currently owns a private pet concierge service, The Posh Pooch Club in Dallas, which offers Dallas' most discerning pets luxury pet care services. Her own three dogs provide daily inspiration for new ideas to spoil pets rotten.