Virtually every industry offers a level of high quality independent certification except the pet care services industry…until now
The Professional Animal Care Certification Council (PACCC) is a 501(c)(6) non-profit created by a team of industry experts to recognize high quality providers and help them meet the challenge of educating pet parents on the value of a pet care provider's investment in education and training. Independent certification, using testing from industry developed standards, clearly identifies the premier professional animal care providers in our industry. Both providers and pet parents benefit from the implicit distinctions a reputable and objective third party certification provides. PACCC awards three levels of certification to recognize the expansive knowledge required and basic career levels in the industry: Certified Professional Animal Care Provider (CPACP), Certified Professional Animal Care Manger (CPACM), and Certified Professional Animal Care Operator (CPACO).
Who is PACCC?
PACCC was co-founded by pet care services industry veterans, Charlotte Biggs and Susan Briggs, to provide independent certifications for industry providers. In addition to the expertise of Charlotte and Susan, PACCC is guided by an experienced Board of Directors who have been actively involved in the animal care industry and who possess proven business skills. PACCC has retained a professional, experienced testing company to assist in the development and management of the testing program for certification.
Our Mission
The mission of the Professional Animal Care Certification Council (PACCC) is to bring independent testing and certification to the pet care services industry. Independent certification is an important step for a rapidly growing, easy to enter industry frequently damaged by news reports of serious pet accidents and deaths. Professionals that pass stringent testing, which reflects a professional's broad base knowledge of animal care, will receive a 3-year certification.

Meet the PACCC Board of Directors
Stephanie Shipley, CPACP, CPACO
Chair | Executive Committee Chair
Stephanie, born and raised in New Brunswick, Canada, opened her own pet care facility, Paw & Order Inc., in December 2009 after having dreamed of helping, playing, and working with dogs as a career since she was a young child.  After spending 20+ years working in the hospitality/hotel industry as a Director of Operations and Director of Human Resources for both Delta Hotels and Marriott Hotels, she welcomed the opportunity to switch her focus to providing exceptional pet hospitality.  Stephanie started training dogs to play flyball many years ago but soon became much more interested in the specialty areas of Canine Communication and Behaviour.  She is heavily involved with local dog rescue through ongoing partnerships with Dun Roamin' Stray and Rescue, Oromocto SPCA, Transition House and Boston Terrier Rescue Canada.  She also spends much of her time conducting educational workshops on dog training, dog behaviour, responsible dog ownership, and has created and presented children's educational programs in the local school system and the 4-H Club.  Stephanie initially set out to change the way that pet care is provided and viewed in her community by raising the bar and encouraging others to do the same.
Amy Hillis, CPACO
Vice-Chair
Amy Hillis is Co-Founder and Managing Partner of Social Pet Hotel and Daycare, with two locations in the Charlotte, North Carolina area. She has a Bachelor's Degree in Middle Childhood Education from Ohio University and a Master's Degree in School Counseling from the University of North Carolina at Charlotte. During her time as a teacher and administrator, she recognized the power of differentiating instruction to meet each child's individual needs and wanted to translate that to the pet care industry. She opened Social Pet with her husband in 2014 and has brought the Enrichment Daycare platform to the Charlotte area to help enrich the bond between dogs and their families. Amy continues to feed her passion for education by serving as the co-chair of IBPSA's Education Committee, volunteering with Big Brothers Big Sisters of Central Carolinas, and is also currently back in graduate school at Queens University of Charlotte earning her Certificate of Leadership and Change. She lives in Ft. Mill, South Carolina with her husband, son, and 3 dogs.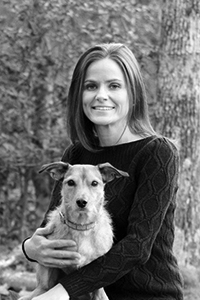 Jessica Zellmer, CPACO
Secretary
Jess Zellmer and her husband Dave found their passion for pet safety as owners of Paws in Motion, a Dog Daycare and Boarding Facility in King George, Virginia. Their center specializes in offering small playgroups with ample human interaction and highly individualized care for canine and feline guests. She has previously served on the board of the King George Animal Rescue League and volunteered as a foster family for ACES, Another Chance for English Setters. In addition to her career in pet care, Jess holds a Doctoral Degree in Audiology and has worked in the hearing healthcare field for over 15 years. She combines her love of business and education as a Territory Manager for the largest global provider of hearing solutions. In this role, she works closely with hearing care professionals to build business by helping them achieve maximum benefit for patients utilizing the latest technology and testing techniques. Jess looks forward to bringing her business development expertise to help build awareness of PACCC in the pet care community.
Kari Campbell, CPACP, CPACM, CPACO
Immediate Past Chair | Treasurer
Kari Campbell has over twenty years' experience in the pet care industry. She is a founding member of the Normandy Project, and the Alaska League for Animal Welfare Standards, a past board member on the Anchorage Animal Care & Control Center Advisory Board and has volunteered with Friends of Pets as past president and board member. Her volunteer experience led her in 2005 to open Dog Tired K9 Activity Center in Anchorage, Alaska. Kari's facility is a bright and vibrant place for pups to play, with the health, safety, and well-being of her guests as her top priority. Her passion is to provide the highest level of care for her clients through education, compassion, and communication. Dog Tired is dedicated to educating their staff and clients and have been long time members of the Dog Gurus, IBPSA, WIPIN, WPA, and APDT. Dog Tired is known for their innovated parent teacher organization and the events they host both for their clients and their community. Kari was born in Santiago, Chile. Her unique upbringing is matched by her unique professional experience as an accomplished opera singer, with an educational background in vocal performance. Having toured through Japan, Europe, and the United States, she has performed with several opera companies and orchestras. Although her education and singing experiences have been very rewarding, her lifelong dream has been to work with animals. She shares her life with Newton, a French Bulldog.
Tara Crouse
Marketing Committee Chair
Tara Crouse is PACCC's Pet Parent Board member and Marketing Professional who is responsible for providing an unbiased perspective in everything PACCC does. Tara's passion for animals began at a young age when she would visit neighbors to play with their dogs. She's been a pet owner since childhood and currently lives with her husband and three fur-kids in New Brunswick, Canada. Her professional work experience includes over eleven years in Marketing Consulting, eight of which have taken place at Salesforce. She enjoys collecting survey data for the Pet Care industry and has presented some of her findings at the IBPSA Pet Care Conference. Tara has also taught Marketing courses at the University of New Brunswick and worked with the local SPCA on Marketing and Education initiatives. She is passionate about the work that PACCC does and believes independent certification in the pet care industry is imperative for the safety and wellness of all pets.
Jamie Engerdahl, CPACP
Board Member
Jamie is the Owner of Kinder Canine Coaching in Manitoba, Canada, and has over twenty years experience in the Animal Care Industry. She is a Certified Professional Animal Care Provider, Certified Professional Canine Behaviour/Obedience Trainer, CKC Judge, Certified Veterinary Assistant, and an Animal Advocate. In her spare time, Jamie works alongside many Rescue Groups and Animal Welfare Organizations, offering expertise in several areas of the industry. As a Military wife, Jamie has been able to take her work all over the country and help many animals in a unique way. She specializes in Anxiety and Aggression Behaviour by helping pet parents understand their dogs' needs from their point of view. Jamie also likes to focus on prevention, safety and education with pet parents, striving for a successful, accepted and reliable Canine Good Neighbour. Jamie's passion has always been and continues to be to improve the standard of care in the Animal Care Industry. Her life currently revolves around her two dogs, Mya and Molly and her two cats, Hope and Boots. Mya is a Husky/Shepherd mix full of sass and silliness as she enters her senior years while Molly is a Terrier Mix who recently retired from being a Demo/Competitive Dog. Jamie enjoys competing in Scent, Agility, Flyball, Obedience/Rally, and Wag it Games with her dogs and her family hopes to welcome a new addition in the near future.
Nichole Bennett, CPACO
Board Member
In 2015, Nichole and her family turned their dream of creating a safe, healthy, and fun space for dogs into a reality when they opened Biscuits Doggie Daycare in Tacoma, Washington. Born and raised in Lakewood, Washington, Nichole graduated from Pacific Lutheran University in 2015 with a Bachelor's Degree in Psychology. Being well-educated in everything "dog" is very important to Nichole – she attended the Northwest School of Canine Studies and became certified in Canine Studies in May of 2016 and became a Pet Tech Pet First Aid and CPR Instructor the same year. Nichole will never stop pursuing new opportunities for learning and growth and is excited to help carry on the mission of the PACCC.