May 2022
Tasty little updates on what's happening with the PACCC!
Congratulations to Our Newly Certified Professionals!
The following are those who joined the PACCC in the March exam cycle:
Professional Animal Care Provider Exam
Sudee Schnuerer, Puyallup, Washington, USA
Emily Ringenbach, Charlotte, North Carolina, USA
Gabrielle Trefelner, Fort Pierce, Florida, USA
Barbara Noll, Dallastown, Pennsylvania, USA
Tracie Evick, Clarksville, Tennessee, USA
Rebecca Morehouse, Springfield, New Brunswick, Canada
Chantale Fontaine, Richmond, British Columbia, Canada
Professional Animal Care Manager Exam
Carol Saunders, Algona, Washington, USA
Diane Huck, Madison, Wisconsin, USA
Jennifer Rueli, Springfield, Massachusetts, USA
Professional Animal Care Operator Exam
Bill Hillis, Charlotte, North Carolina, USA
Ruth Faulkner, Haymarket, Virginia, USA
Pam Stanley, Grand Rapids, Michigan, USA
Cory Staples, East Hampton, Massachusetts, USA
Thank you for your commitment to the safety and well-being of pets in your care. We are happy to have you as #partofthepaccc!
Certified Professional Spotlight
Michael McIntyre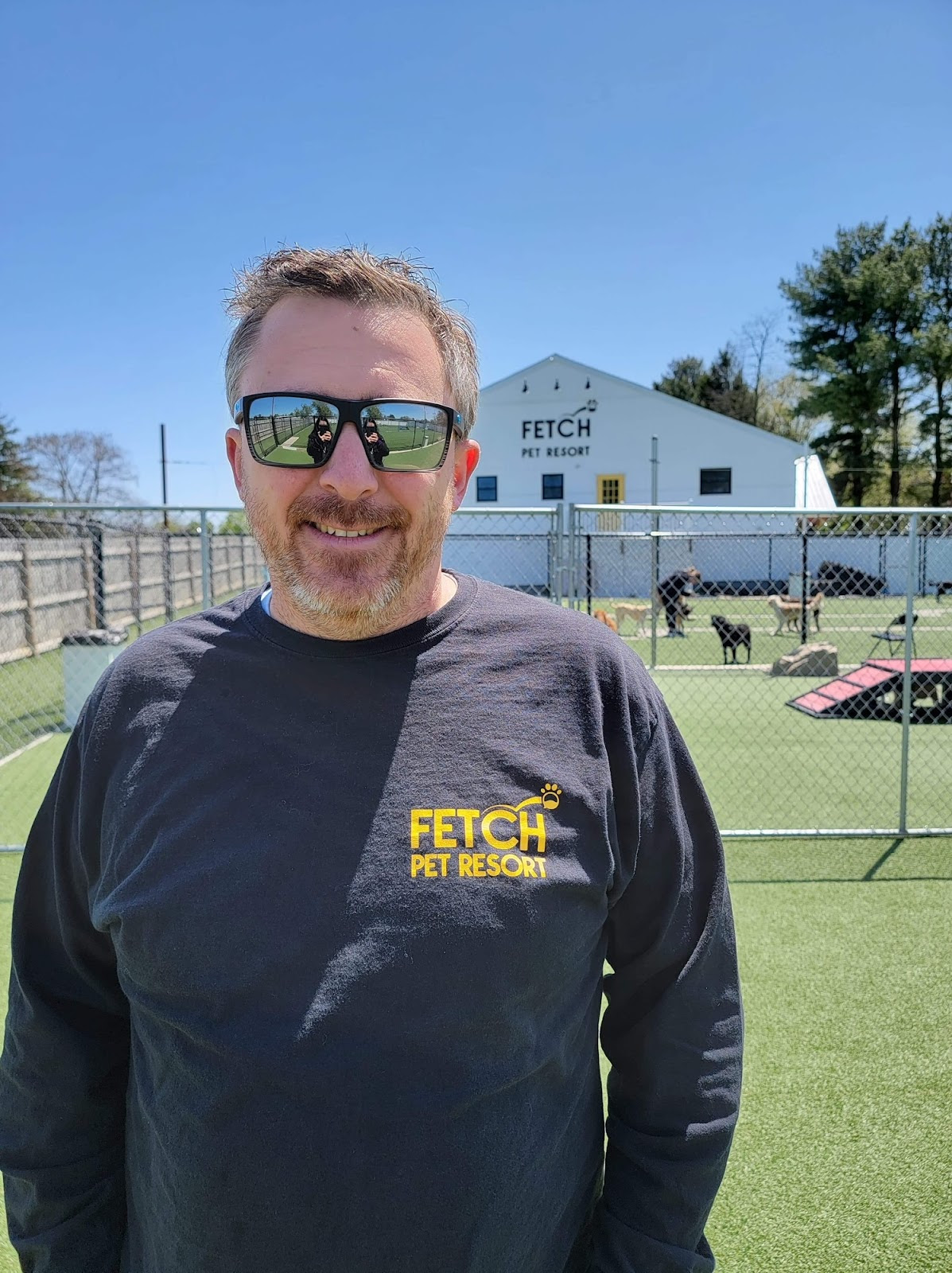 Owner of Fetch Family Pet Resort in Sewell, New Jersey, Mike has been a Certified Professional Animal Care Provider since passing the exam in November 2021. Although 'Fetch', his owned facility has been open for only two years, Michael has immersed himself into the pet care industry, being a regular participant on the weekly IBPSA Thrive calls and on the PACCC Marketing Committee meetings Congratulations Mike… Well done! Here is what he had to say:
PACCC: Can you tell us a bit about yourself?
Absolutely! I am the owner of Fetch Family Pet Resort. My wife (Mikki), son (James) daughter (Ellie) and two mini Australian shepherds (Sydney and London) are my world. When we are not working we do like to play A LOT. We love to travel and see new areas of the world and create our own adventures. I have a bachelor's degree from Rowan University. I was in the insurance business for 20 years and decided that my true passion was not insurance. I then decided to open Fetch Family Pet Resort in Sewell NJ. We opened in February of 2020, yes right before the pandemic!
PACCC: How long have you been working with animals?
I have been working with animals for 2 years now and realized how rewarding it can be when you can make such a difference in the lives of both the pets and their owners.
PACCC: Why did you choose to become PACCC certified?
I chose to become certified because I see a need in our industry for certification. There should be a standard and not just anyone should be able to open a facility without being properly trained. I would not want to go to a dentist that just decided to open dentistry without having the proper training and certifications. I feel that my clients know that we are taking the absolute best care possible for the fur babies.
PACCC: Why do you feel that certification is important in the pet care/pet services industry?
It is imperative that certification become our industry-standard for the safety and well-being of our pets/ loved ones.
PACCC: How did you tell your friends, family, customers, etc. that you obtained your PACCC certification?
I am a loudmouth that tells everybody about PACCC. Most people ask me what my certification means and then they get a 20-minute lecture on the reason I became certified. Then they usually ask what PACCC is and they get another 20 minutes of PACCC's Mission and Code of Ethics. It is to change the way pet care is provided throughout the world.
PACCC: How did you prepare for the exam?
I took the practice exams and that helped immensely.
PACCC: Would you encourage others in the industry to become certified? If so, why?
I always encourage others to get PACCC certified and the main reason is to make sure that people caring for other people's loved ones should be willing and able to provide the highest level of care. People need to have pride in what they do and getting certified shows that we are doing everything possible to make sure our level of service is top-notch.
Exam Update
Exam Windows
The deadline to register for the next exam cycle is May 11th for the June 11th-25th 2022 testing window. Registrations can also be made at this time for the testing window taking place in November. For registration information, visit paccert.org/exam-info/. For exam prep, including information on accessing our study group and resources recommended by currently certified professionals, visit paccert.org/paccc-prep/
Test from Anywhere Anytime
You can choose to take the exam at one of the hundreds of Prometric testing sites around the globe or, if physically going to a testing center is difficult, you can also take the exam 24 hours per day, 7 days per week via remote proctoring. Of course, there are some things to keep in mind when opting to take this exam from the comfort of home:
The exam is still a proctored exam with strict testing regulations and security and a live person on-screen while during testing
A strong and reliable internet connection is required. If your connection fails and it is determined to be on your end, you may forfeit any exam fees.
A testing area free of clutter, paper, books, etc. is required.
Current technology prevents special accommodation requirements however these are still available at in-person testing facilities.
Leaving the testing room for any reason is not permitted. This includes bathroom breaks.
No food or drink is allowed.
If you have questions, please reach out!
Practice Exams
If you are planning on testing this year, the practice exams are a fantastic way to prepare. Each exam gives you the opportunity to:
Review the type of content included on the actual exam
Learn more about question format, style, and level of difficulty
Assess any areas of weakness
For more information on practice exams visit paccert.org/practice-exams/.
For Current Certified Professionals
If you are currently certified with PACCC, ensure you have joined our private Facebook group and that your information is up-to-date in our Certified Directory. To modify your personal information, click here.
Pet Parents Spotlight
Kathy Hennessey
Meet Kathy Hennessey, proud dog Mom to Banjo and Norman, and a strong supporter of PACCC! Kathy attends many of the PACCC webinars and Facebook Live events and is a pet parent who has been an avid supporter of independent, third-party certification in the pet care industry since becoming aware that training, experience, and education are not required when working with people's pets.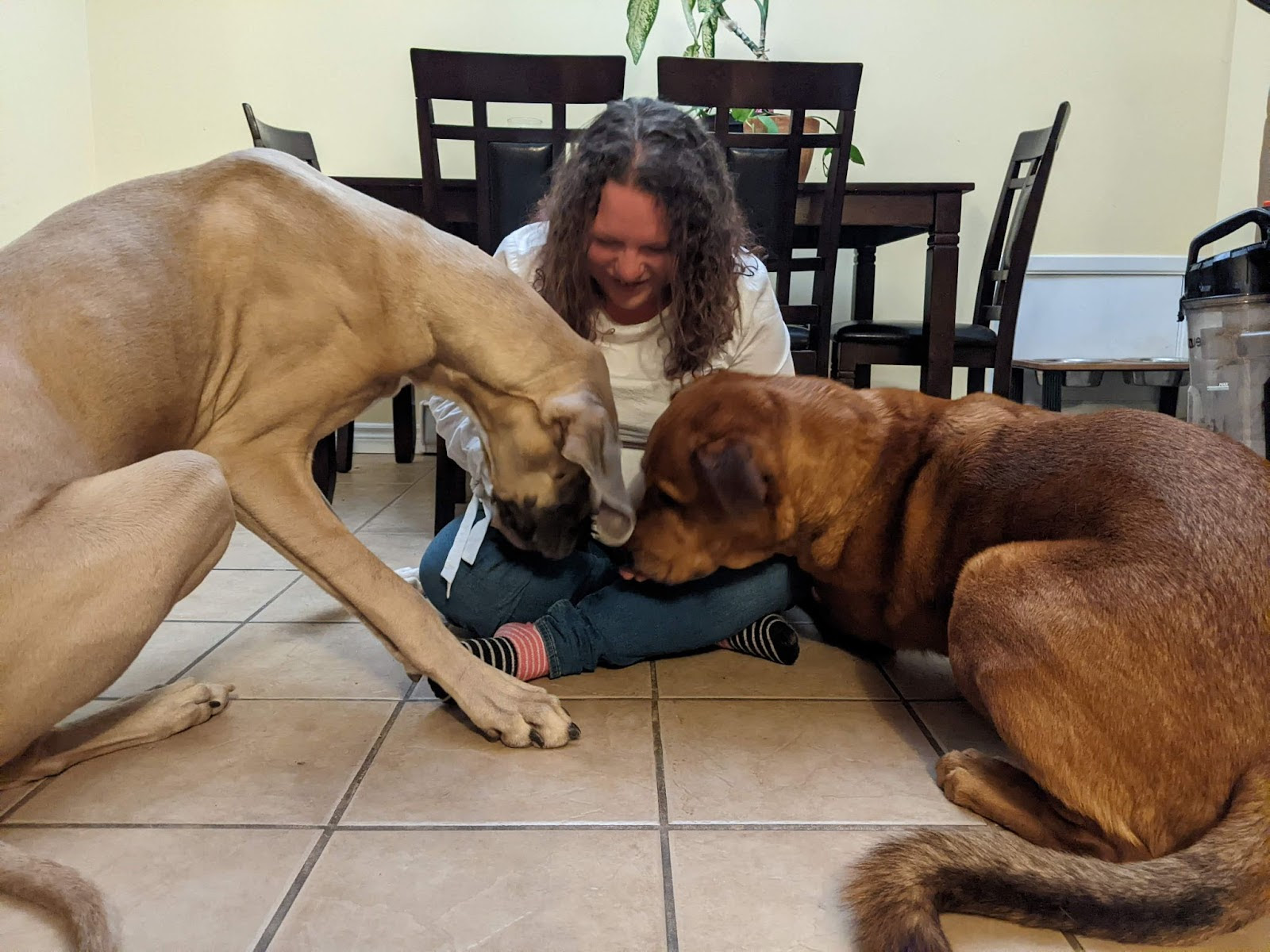 So we asked Kathy to answer just 1 simple question, "Why is certification in the pet care industry important to you, the pet parent?
Here's what Kathy had to say:
"Certification in this industry is important to me because my animals are. I want to feel confident in the care being given to them, especially with a service that I'm paying for like boarding or daycare as opposed to just leaving them with a friend or family member. With nothing else to go on, pet parents generally rely on referrals and word of mouth when choosing a pet care provider. We assume that they have relatively equal skills and qualifications, that there is a required minimum standard having to be met at each to even operate – but that isn't the case. Now that I know certification is an option, I see it as an added "tool in their belt", a referral that isn't based on anyone's personal opinion but is tested knowledge that was qualified by professional experts. Given the option, obviously, I want my dogs to go to someone who added that tool to their belt! I'd even go so far as to say that I'd question any provider who has chosen to not add it to theirs.
I have two giant dogs. With giant hearts, but also giant paws, legs, mouths, and energy. They could easily hurt themselves, or another dog, if put in a situation. Someone without appropriate knowledge may assume that, because they're friendly dogs, they'd do fine in a large group and one supervisor. Sounds great…until it's a disaster. I'd prefer to know that they're safe, and someplace that considers playgroup sizes and behaviors, with appropriate staff-to-dog ratio policies, pet first aid training, etc. I also want to know that, if something unfortunate happens, there is some level of responsibility and accountability on those who were responsible for their care. Knowing that there is a revocable status, some course of action from an independent third party, helps me to feel more confident in the care being provided to my dogs. It's not a guarantee that nothing will ever happen, but it's something, and better than the alternative with anyone not certified.
So many people get into a pet care business because they "love dogs", but that just isn't enough for me when choosing a professional provider. I love dogs too, that's why I want the best for mine. Certification is a way for me to identify who that may be by filtering out those who added the tool to their belt against those who haven't. We use certified daycares for our (human) children, mechanics for our cars, we even shop around for the best-qualified plumbers for our toilets. Shouldn't I put as much care and consideration into selecting the person taking care of my dogs as I would for my toilet?"
Media Mentions
Fredericton
We love it when Certified Professionals are mentioned in the media. Here is a recent news article where PACCC Chair, Stephanie Shipley, was quoted.
If you've submitted a recent press release or been in your local news, let us know!
Events
The Dog Gurus Business Breakthrough Workshop – Jacksonville, FL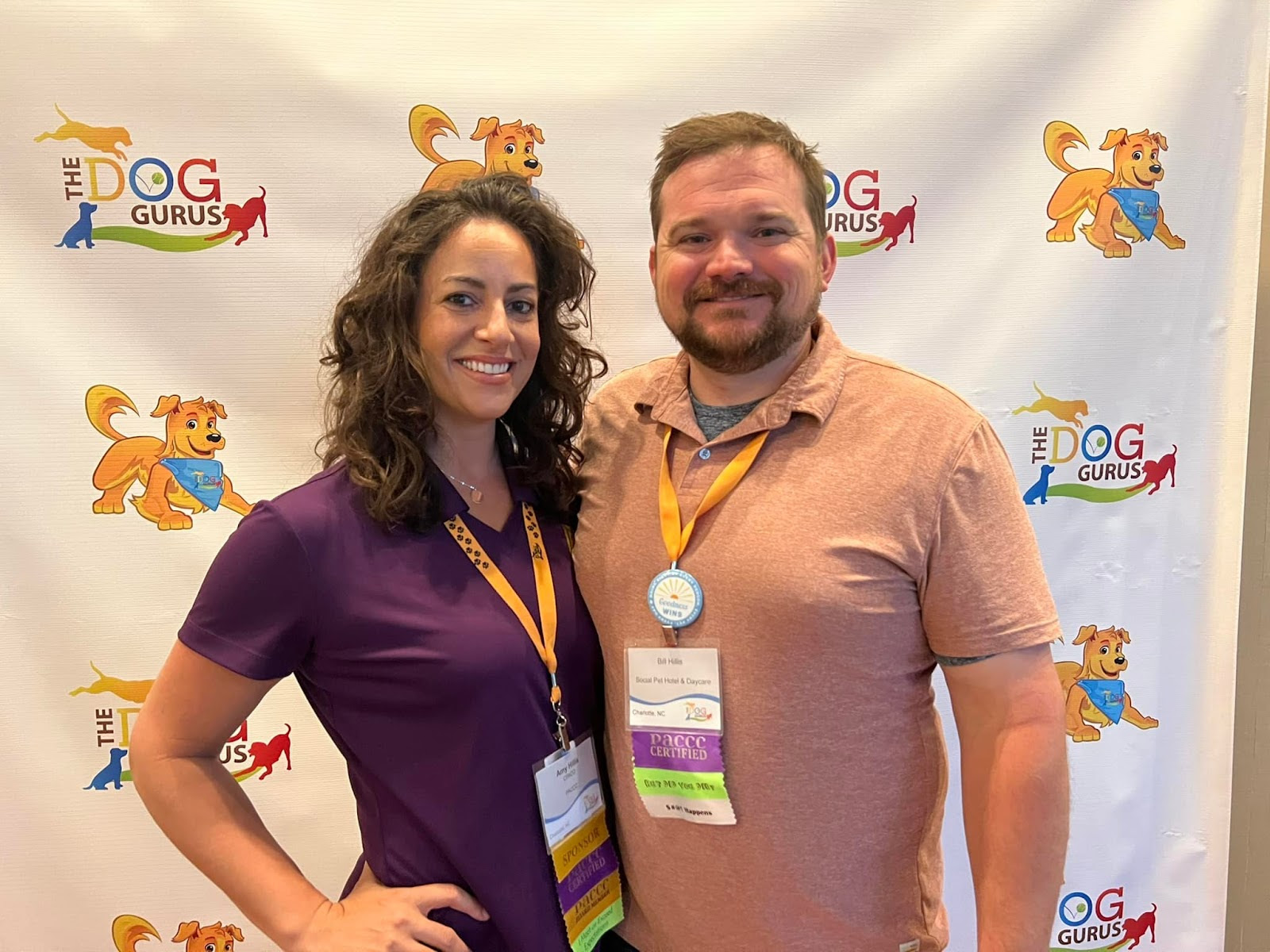 The Dog Gurus Workshop in Jacksonville was a success, not only for professionals in our industry but for PACCC as well. During this workshop, PACCC was able to forge lifelong relationships with people who have an infinite amount of love and respect for pets. During our time as an exhibitor, ten people registered for the Provider exam, nine for the Operator exam, and one for the Manager exam.
We are proud that PACCC's message of leading the industry through certification was well-received in Jacksonville. Additionally, several of our wonderful PACCC supporters donated prizes to give away to the participants including Gingr, IBPSA, Kuranda Dog Beds and Natura Turf, and Paragon School of Pet Grooming.
2022 IBPSA Flow Business Conference – Orlando, FL – September 22 – 24, 2022
PACCC is thrilled to say that we are all registered to host visitors again at this year's conference on the Tradeshow! You can learn more about the conference here. We look forward to seeing you there.
Facebook Live Sessions
A big thank you to Gingr for participating with us on a Facebook Live! The Gingr team talked with PACCC Vice-Chair, Amy Hillis, about all the ways to use Gingr to complement PACCC Certification. Many features of their software support the health and well-being of the pets in your care, including feeding reports, medication logs, icon usage, and more! If you want to know more about all the ways Gingr can help your business, visit them at www.gingrapp.com.
Best Practices Session
Stay tuned to our Facebook page for news about our next Best Practices session!
Employee Retention Webinar
In March, Joe Zuccarello, President of The Paragon School of Pet Grooming, was a guest in a free webinar. He presented four elements of being a competitive employer in a world where it seems almost impossible to find employees. In case you missed it, check out the recording here!
PACCC Supporters are the Best of the Best
Beth Klein with Kuranda Dog Beds authored an educational article about the benefits of using elevated pet beds either at home or in a pet care facility. PACCC was thrilled to be able to circulate the wonderful article to our subscribers and you likely saw this hit your Inbox only a few weeks ago. In case you missed it, check out the article here.
Webinars now on YouTube
We are excited to announce that all past PACCC Webinars can be found on our YouTube channel. Subscribe to ensure you are in the loop as new videos are added.
Recertification
Reminder
Several Certificates expire this coming June. May 30th is your deadline to submit your recertification application. Use this link here to get started!! paccert.org/recertification/
CEU Updates
PACCC Portal
If you are a certified professional and have yet to register for the PACCC Portal, you can do so at paccert.org/register. If you have already registered, you can access the Portal at paccert.org/login or by selecting the new Portal button on the top-right of the main page of our website (paccert.org).
The Dog Gurus
If you attended the Dog Gurus, remember to take note of your CEUs!
Chats with the Chatfields

Our friends Dr. Jenifer and Dr. Jason Chatfield bring a wealth of experience and knowledge to the pet industry and pet parents via their podcast, 'Chats with the Chatfields'! PACCC is thrilled to be able to partner with the Chatfields to make their podcast approved for PACCC CEUs! Starting in May 2022, episodes will contain PACCC CEU information.
Welcome New PACCC Board Member
Cathy Brooks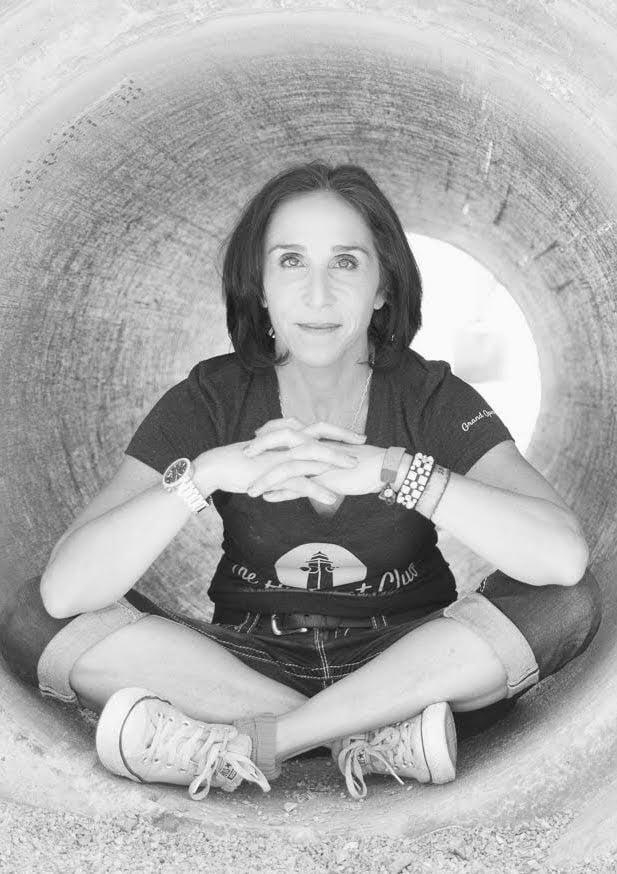 Cathy is a career communications professional whose work has ranged from radio to television, newspaper, and digital platforms. She started in radio and after getting a degree in Journalism from Northwestern University, her career path turned through Silicon Valley. While there she worked in public relations, event content curation, and business development. After testifying in the San Francisco Diane Whipple dog mauling trial in 2000, Cathy began to pursue further education in dog behavior and training. In 2012, Cathy turned her life-long passion for canine behavioral study into a full-time career, opening The Hydrant Club in Las Vegas, NV.
She applies her lifetime as a communications professional and student of canine behavior to facilitate communication between dogs and their humans. She does this through private instruction and an award-winning facility, teaching everything from behavioral modification to basic and advanced obedience. It was through this work Cathy realized by exploring the dog-human connection, she could transform how people communicate – making sure messages land and facilitating connections that lead to success. In 2021 she launched Unleashed Leadership LLC – a media, event, and coaching business leading people to financial and personal success through effective and powerful communication (between humans). Unleashed Leadership includes the weekly show, Talk Unleashed, a live event series, and private/group coaching. Her mission goes beyond helping businesses thrive, to a vision of a world made better
by supporting people in more effective and authentic communication with each other.
The PACCC Board is very excited to welcome you Cathy!
PACCC Supporter Profile
The International Boarding and Pet Services Association (IBPSA)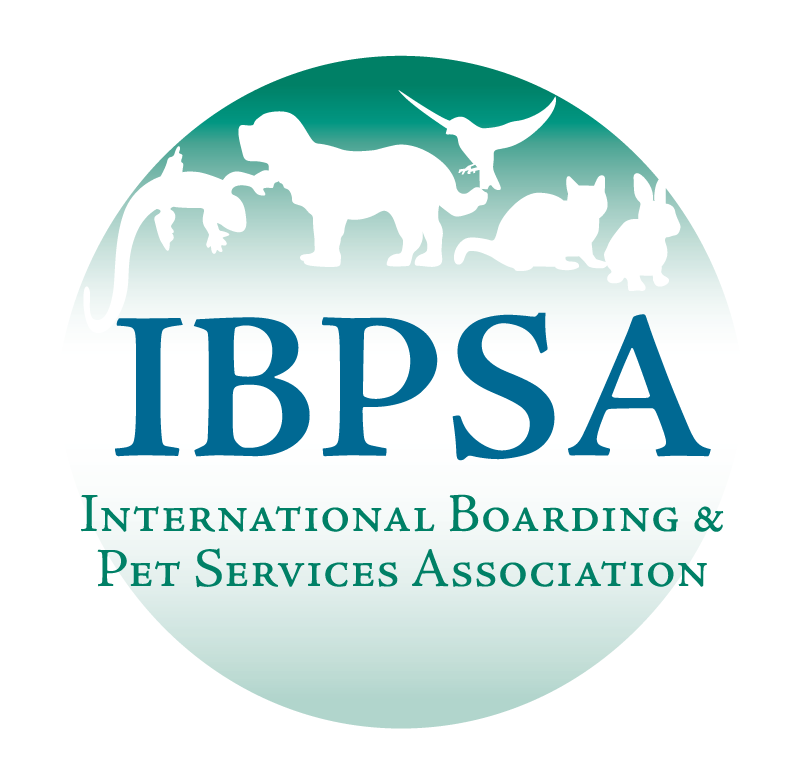 Before the first PACCC exam was taken, the IBPSA has been creating quality educational materials. These courses and resources have assisted hundreds in preparing to take a PACCC exam. They've also been an integral source for many seeking the required Continuing Education Units (CEUs) needed for recertification.
The 2022 IBPSA Business Conference will be held in Orlando, Florida, from September 22nd to 24th with "pre-conference sessions happening on September 20 & 21). Each year, the IBPSA ensures the vast majority of the education sessions held at its annual conference are approved for PACCC CEUs. Registration for this year's conference is now open at petcareconference.com so be sure to get your ticket now before it sells out! We would love for you to visit us in person at the PACCC booth on the tradeshow floor!
The Following is from IBPSA.com:

The International Boarding & Pet Services Association (IBPSA) is a professional association serving the pet care services industry

IBPSA offers business resources, staff education, and legislative support. IBPSA Members include the owners and employees of pet boarding and daycare facilities, groomers, dog walkers, pet sitters, veterinarians, trainers, and holistic pet care providers currently residing in more than 10 countries.
For the fast-growth, highly competitive world of pet care services, IBPSA is dedicated to providing our Members with the business resources and support they need to be among those considered the best in the industry. IBPSA's staff education and certificate programs, developed by veterinarians and industry experts, provide an invaluable base of pet care knowledge for service providers. Our focus on current industry trends and analysis of the impact on business, as well as staying abreast of industry legislation, allows Members to focus on making their business a success.
IBPSA also facilitates and encourages networking opportunities so Members can gain support and learn from other industry professionals.