August 2020
Certified Professional Spotlight – Meet Merit Day!
I started a dog training business Top Dog Training in 2004. I had just completed the online curriculum Dog Trainer / Instructor Program from Penn Foster University. I constructed a small 30×20 barn on my private property and started teaching classes. At the time, my goal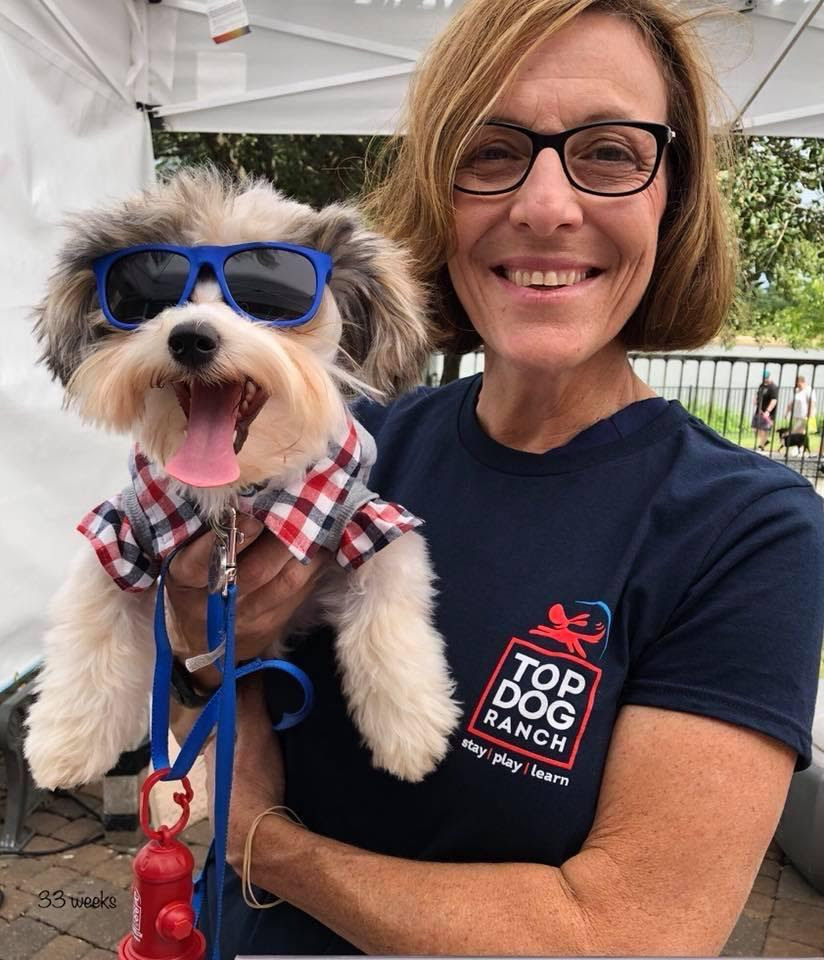 was to create an income and an in-home business I could do while being home raising my two young children. In 2006 I moved to the next town over, relocated the family, remodeled the 35×55 two story building contained on our new property and continued the business. I converted it to a kennel and training room with other features specific to the business. I operated here until 2018. During that time, I gained experience, knowledge, and a bigger dream. From 2016 to 2018 I began to plan for and compile details for a full-service facility sometime in the future. That is when I attended multiple conferences and prepared for the CPACP exam. I searched for just the right property. The new facility was designed and built. I changed the name to Top Dog Ranch and have been open since November 2018.
PACCC: What was your motivation for becoming a CPACP?
My motivation for becoming a CPACP was based on wanting to learn and be prepared for the opening of my expansion of my dog training business into a full-service facility. In the planning and development process I wanted to study and learn as much as I could. The expectations to succeed at the test pushed me and provided me with a guideline of what topics are important.
PACCC: Has being certified made a change to your business?
I am not sure if being certified has made a change in my business. It did make a change in myself. I became educated, prepared, and confident I would maintain a safe facility with quality care. I also feel it set a great example to my staff. I want what we do to be treated like a profession. I want my workers to be aware their knowledge, training, and certification are assets for them.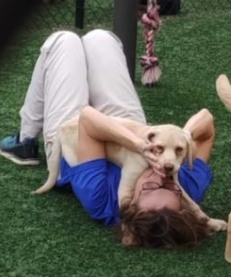 PACCC: Would you recommend certification to other pet care professionals?
Yes, I would recommend certification to other pet care professionals because it is a wealth of information based on experiences of many qualified people. Having access and wanting to learn from them is what the certification process allows. You set yourself on the path of continually learning. You want to pursue excellence, and this gives you a path and a measurement point.
PACCC: What are some of the courses, books, websites, etc., that you found most valuable when preparing to take the PACCC Exam?
I read and attended seminars in preparation for my certification. I obtained materials from The Dog Gurus, and the library of the IBPSA. I took the IBPSA Canine Care Specialist certification exam IBPSA. I also took an online pet first aid course. I also read two books on managing employees. I attended the annual IBPSA conference and the ODD Ball conference.
PACCC Supporter Profile
As a not-for-profit organization, we rely heavily on the support of individuals and organizations to assist PACCC in spreading the word about the importance of obtaining independent certification in the pet care industry. Which is why we would love to share with you some information about these generous organizations that believe in PACCC's mission and vision. Meet…

Pet Tech is a long-time supporter of PACCC by increasing awareness about the importance of independent certification through the distribution of PACCC materials to pet professionals and pet parents around the globe.
With a series of well-established courses geared to "Improving the Quality of Pets' Lives, One Pet Parent at a Time"™, Pet Tech is a premiere education provider with several of their courses already approved for the PACCC CEU program. Whether it's their full 8-hour PetSaver Program, 5+ hour Pet First Aid & CPR Course, the 90-minute Hiking & Walking class, or the comprehensive 3-day Pet Tech Instructor Training, the information is up to date and easy to understand and remember. Look for a listing of available PetTech courses near you on their website https://pettech.net.
Don't see a course near you? PetTech Instructors are so committed to getting the education into the pet community that they may be available to travel to your area to conduct a session tailored to your group's needs as pet parents or pet care professionals. Just ask!
PACCC sincerely thanks Thom, Cindy and the entire Pet Tech family for their ongoing daily support of PACCC!
Exam Update
Fall Exam Window
The next exam window is from November 7-21, 2020, with the deadline to register being October 15, 2020. For more information about registration, visit the PACCC website at paccert.org/exam-info/.
Practice Exams
If you are planning on testing in November, the practice exams are a fantastic way to prepare. Each exam gives you the opportunity to:
Review the type of content included on the actual exam
Learn more about question format, style, and level of difficulty
Assess any areas of weakness
For more information on practice exams visit paccert.org/practice-exams/.
Congratulations to Our Newly Certified Professionals!
We are so proud of the 11 people who got certified in the midst of the COVID-19 pandemic. A HUGE congratulations goes out to the following fabulous pet professionals!
Certified Professional Animal Care Manager
Julie Chamness, Belleville MI
Rebecca Michael, Mobile AL
Certified Professional Animal Care Provider
Kylie Brown, Baltimore MD
Christian Moore, Severna Park MD
Whitney Patterson, Maryville TN
Benjamin Royal, Regina SK, Canada
Certified Professional Animal Care Operator
Nichole Bennett, Tacoma WA
Samanatha Engle, Middleburg VA
Patrick Flynn, Washington D.C.
Amy Hillis, Charlotte NC
Jonathon Nisula, Beacon Falls CT
Congratulations to those who are now #saferinapaccc! Your dedication to the Pet Care industry is inspirational and we hope you shout your accomplishment from the rooftops!
Best Practices Session
On Tuesday, August 18th, PACCC played host to a wonderful group of Certified Pet Care Professionals who joined us on the first-ever live PACCC Best Practices session. The topic that was up for discussion was Best Practices for Leveraging your Certification for your Business. We shared ideas on how some of our Certified Professionals have marketed their certification within their facilities, business and their communities. Due to the wonderful response during and after the call, PACCC has decided to keep this going for all of our Certified Professionals on a bi-monthly basis! If you have a topic that you would like to see discussed in a Best Practices format, we would love to hear from you. Send your Best Practices topics and we'll add them to our list. Spread the word so we can continue to grow our network of Certified Pet Care Professional and learn from one another. The recording is posted on our private FB page for PACCC Certified Professionals Only – just one more reason to join the PACCC by becoming certified in the pet care industry.
Upcoming Webinars:
September 9 at 3pm Eastern – Recent Trends in the Pet Care Industry
PACCC is absolutely thrilled to announce that our September Webinar with be none other than Carmen Rustenbeck, Founder and CEO of the International Boarding and Pet Services Association (IBPSA). Carmen is excited to talk to our attendees about recent trends happening in the pet care industry, what to expect in the first quarter of 2021, how to get the most out of an IBPSA membership and the upcoming IBPSA Conference sessions. There may even be a few more surprises that you won't want to miss. Click Here to Register for the Webinar
Events
IBPSA Conference 2020
Stop into our virtual booth at the IBPSA Conference! Your PACCC Board of Directors and other Certified Professionals want to meet you face to face and this virtual conference has the capability to make it happen. With the use of video technology, you can meet face to face (albeit not in person) to ask us questions about PACCC and our mission to make pet care safer across the globe. If you believe that you are good at what you do as a pet care provider, manager, or operator and that you truly know how to provide skilled care for your furry clients, then NOW is the time to prove it by taking the PACCC Exam and joining the group of certified pet care professionals who are striving to improve themselves, their business and the pet care industry.
CEU Updates
Are you up for recertification this year? Did your certification expire in March or June? If so, we have good news – the recertification deadline for ALL certifications that expire in 2020 (including those that expired in March), has been extended! Applications for recertification can now be submitted until November 30. Note that if applications are submitted in December, the testing organization charges a late fee.
For more information on the recertification process, including the Recertification Handbooks and Applications, visit paccert.org/recertification/
Need CEUs to recertify?
The IBPSA Conference 2020 has more than 30 sessions that have been approved for PACCC CEUs and you have access to all of the sessions until March 31, 2021 to accumulate those CEUs to submit for recertification. Register now at petcareconference.com/register/
Submit exam questions for consideration for future exams. Write 5 approved questions for ongoing PACCC exams (3 CEUs). Note: A maximum of 6 CEUs can be earned by writing exam questions in any recertification period. Submitted questions must be approved by the Exam Committee and submitted at least 60 days prior to certification expiration to earn CEUs. Get in touch with us at

[email protected]

to find out how to submit your questions.
Are you taking a local pet care educational course? If so, you can submit a request to have it PACCC approved for CEUs. Just click paccert.org/attendee-app/
PACCC Committee participation for a minimum of a one-year period (5 CEUs).
Completion of the practice exam for your appropriate level of certification (2 CEUs).
Volunteer work experience at a shelter, rescue group, or animal rescue organization may be submitted to the CEU Committee for review and approval of CEUs based on work description and length of time. (Approved volunteer hours are 1 CEU per 8 hours of volunteering.) To request CEUs for volunteer activity, please submit via the online form Verification Form paccert.org/verification/
Reviewed and approved by the PACCC CEU Committee authorship of:
An article in a recognized pet care industry publication (2 CEUs)
An educational book less than 300 pages (20 CEUs)
An educational book more than 300 pages (40 CEUs)
Get Involved
Board of Directors Nominations
Annually the PACCC nominating committee solicits candidates to join our board of directors. Board terms are for three years and, in most cases, service begins in January.
The Board of Directors exists to secure and promote the financial, legal and ethical wellbeing of the Professional Animal Care Certification Council (PACCC) and to ensure that it fulfills its mission. Board members must be able to regularly participate and contribute to PACCC business.
We are currently accepting applications for three board positions to begin service in January 2021.
2019 Nomination Process & Timeline
September 1 – 15 – Application window
September 15 – Last day to submit application form
September 16 – 22 – Nominating Committee members interview candidates
September 25 – Board Candidates announced (all applicants will be notified via email the status of their application)
October 8 – Existing Board of Directors make final selection of new board members
Board Member Qualifications
Advocate for professional certification
Be a current PACCC certificant or plan to sit for exam within 6 months of joining the board
Be actively involved in the animal care industry, having held a paying position in the last six months, preferably over three years of experience
Commitment to animal care excellence and raising industry standard of care
Excellent communication skills
Invests in ongoing learning personally and for all staff
Open to new ideas and sharing to improve industry's overall performance
Proven business skills
Submission Process
(1) Review "Board of Directors – Duties, Qualifications and Responsibilities" PDF to gain an understanding of board member responsibilities to assess if board service is a good fit for you.
(2) Complete the online PACCC Board Candidate Application Form & Board Service Questionnaire. Note: You will be required to upload a resume and three (3) letters of professional reference upon submitting the application form.

(3) Review the documents below to ensure agreement and compliance in the event you are selected as a board member. (You do not submit copies of these documents with your application.)
We appreciate your consideration of service on the PACCC board. Submit any questions you have on service or the submission process to [email protected].
We would also like to take a moment to recognize those PACCC Board Members who are completing their term and will be leaving the Board of Directors as of December 31, 2020. These dedicated individuals have given so much of their time, passion and skill by serving tirelessly on the PACCC Board of Directors throughout the ongoing growth of the council itself and the creation of all 3 exams (Provider, Manager and Operator levels). Much of what PACCC has been able to achieve can be attributed to the hard work of Anna Torres-Radle, Angie Pickren and Beth Jones. We would like to express our sincere gratitude to each of these ladies for their commitment, dedication and hard work over the past several years that has brought PACCC to where it is today. The pet care industry thanks you!