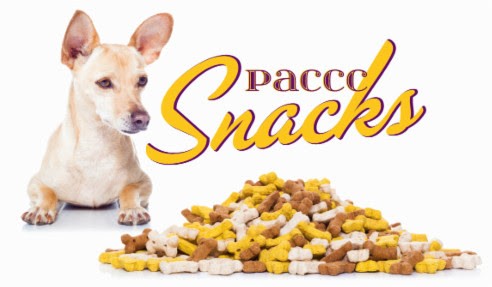 Tasty little updates on what's happening with the PACCC!
CERTIFIED PROFESSIONAL SPOTLIGHT
Meet an amazing PACCC Professional, Kelly Cullum, CPACO, CEO of Best Friends Fur Ever in Cockeysville, Maryland
'Best Friends Fur Ever … We Love Your Dog For A Lifetime.'
PACCC: How did you find out about PACCC? 
After I joined the Board of IBPSA, I really dug into the resources that were available to us as members. As part of my investigations, I learned all about PACCC and had the oppo
rtunity to meet Stephanie Shipley. After you meet Stephanie and all the members of the PACCC team, you must begin to participate! Their energy and enthusiasm is contagious. I studied for my owner's exam and was so thrilled and proud to have passed and now be certified. As a company we now have an entire roll out plan for our full team of 100+ employees to become certified in their respective levels over the next 2 years.
PACCC: What was your motivation for becoming PACCC certified? 
As often happens as you add more levels in an organization you can find yourself distanced from the day-to-day dog and dog parent interactions with your team. I dove back in and realized how much new information was available an
d absolutely necessary to maintain our high standards as a company. I was about to ask all levels in my organization to become certified. How could I possibly not lead from the front and get my certification first.
PACCC: Has being certified made a change to your business?
Relationships with staff or clients? Reputation in the community? I must answer this as a near future result of what is going to be happening. We are going to begin advertising as the only " certified" resort in our two counties. We have two new franchise operations that opened near both of our sites advertising canine counselors whose curriculum is approved by IAABC. Well after interviewing some of the former employees it is obvious that there are no certifications for these positions. It's time to level up your game franchise and other players. Show that you know your material. We all owe this to our four-legged guests and their parents.
Meet Nate Boyd, our Youngest Certified Professional!
At 18 years old, Nathan Marshall Boyd has become the world's youngest Certified Professional Animal Care Provider.
Born on December 31, 2005, Nate resides on the east coast of Canada and has loved animals his entire life. He started working with animals as a young volunteer at a local pet care facility and when he was old enough, was brought onto the Team as a part-time employee. Nate has been working at the same facility for several years and has seized every opportunity to learn everything that he can about dogs and how to help them feel happy, healthy and safe. He has completed Knowing Dogs 101 & 201, the FetchFind online learning program, the IBPSA video library, and led several summary learning presentations with his colleagues after viewing the educational sessions from the 2020 IBPSA Flow Business Conference. He's also read and discussed every book about canine communication/daycare operations that has ever been suggested to him.
Nate has a wonderful and calm energy around dogs when supervising play groups and cares deeply for the pups that visit the pet care facility he works for. He has worked incredibly hard to obtain his certification and can proudly boast his accomplishment to his family and friends as he graduates from Fredericton High School next month.
Congratulations Nate and thank you for taking your individual role in pet care as seriously as your fellow certified professionals.
ANNOUNCEMENTS
Congratulations to Our Newly Certified Professionals!
The following are those who joined the PACCC in the March 2023 exam cycle:
Professional Animal Care Operator Exam
Amanda Diliberto, Christine Egbert, Lisa Flaiz, Rachann Mayer, Dani Petty, Rayne Reitnauer, Cory Wayne, Sarah Winkelvoss
Professional Animal Care Manager Exam
Sierra Causey, Alexander Cost, Nicole Gran, Christina Holtz, Karen Mizell, Dana O'Connor, Gabrielle Trefelner, Erin Wales
Professional Animal Care Provider Exam 
Rebecca Ahlemeyer, Nathan Boyd, Joyce Chung, Renee Diaz, Alexandria Diehl, Emily Doehla, Dylan Fraser, Nina Hicks, Vikrant Kaul, Tracey Kendi, Rachel Malecki, Jessica McDonald, Makenna Porath, Rachel Stevens, Mary Taylor, Erin Wales, Naomi Walker, Jesse Waters, Carlie Whidden, Sonya Wilson, Joycel Yele
Thank you for your commitment to the safety and well-being of pets in your care.
We are happy to have you as #partofthepaccc!
PACCC Founders Award
We know you know them. Those amazing people you see in the pet care industry who are always going above and beyond. They may be eligible for the PACCC Founders Award and would love for you to nominate them!
The Professional Animal Care Certification Council Founders Award recognizes certified professionals for distinguished contributions to the pet care industry. Recipients of the Founders Award exemplify PACCC's standards in their individual institutions, their work in their community and elevate our profession as a whole.
What does it take? Here are the eligibility requirements:
PACCC Certification at any level
Individuals with an acknowledged career in any aspect of the pet care industry, such as business ownership, nonprofit involvement, or volunteer work
Individuals who have contributed to PACCC's mission of raising awareness of  the need for certification in our industry
Yep. It's that simple. Applications are welcomed from individuals nominating themselves, as well as applications submitted in support of a nominee.
Learn more about nominations at paccert.org/founders-award
EXAM UPDATE
2023 Exam Dates
This remaining exam date for this year are as follows:
June 10-24, 2023 (May 10 registration deadline)
November 4-18, 2023 (October 11 registration deadline)
Check out paccert.org/exam-info for detailed exam information.
Practice Exams
If you are planning on testing this year, the practice exams are a fantastic way to prepare. Each exam gives you the opportunity to:
Review the type of content included on the actual exam
Learn more about question format, style, and level of difficulty
Assess any areas of weakness
For more information on practice exams visit paccert.org/practice-exams.
EVENTS
Pet Boarding and Daycare Expo
PACCC will be attending the Pet Boarding and Daycare Expo West in May in Las Vegas on May 8-11. We hope to see you there!
Canadian Pet Expo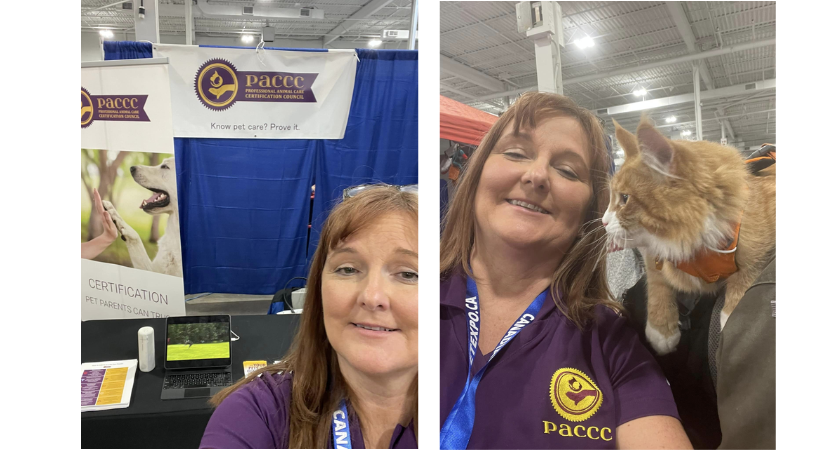 In early April, PACCC attended the Canadian Pet Expo in Toronto. We loved speaking to so many pet parents and those who work in the Canadian pet industry! If you were there, thank you for stopping by! Stay tuned for more attendance at Canadian trade shows!
Groom'd
In March, PACCC attended GROOM'D in Atlanta while assisting one of our amazing supporters (IBPSA) with their booth on the tradeshow floor. We had some wonderful conversations with attendees about the importance of certification in the pet care industry as well as the great benefits that come along with being a member of the IBPSA. We spoke with several individuals at various stages of the business. Some are starting to build while others have been a part of the pet services industry for many years.
Home Show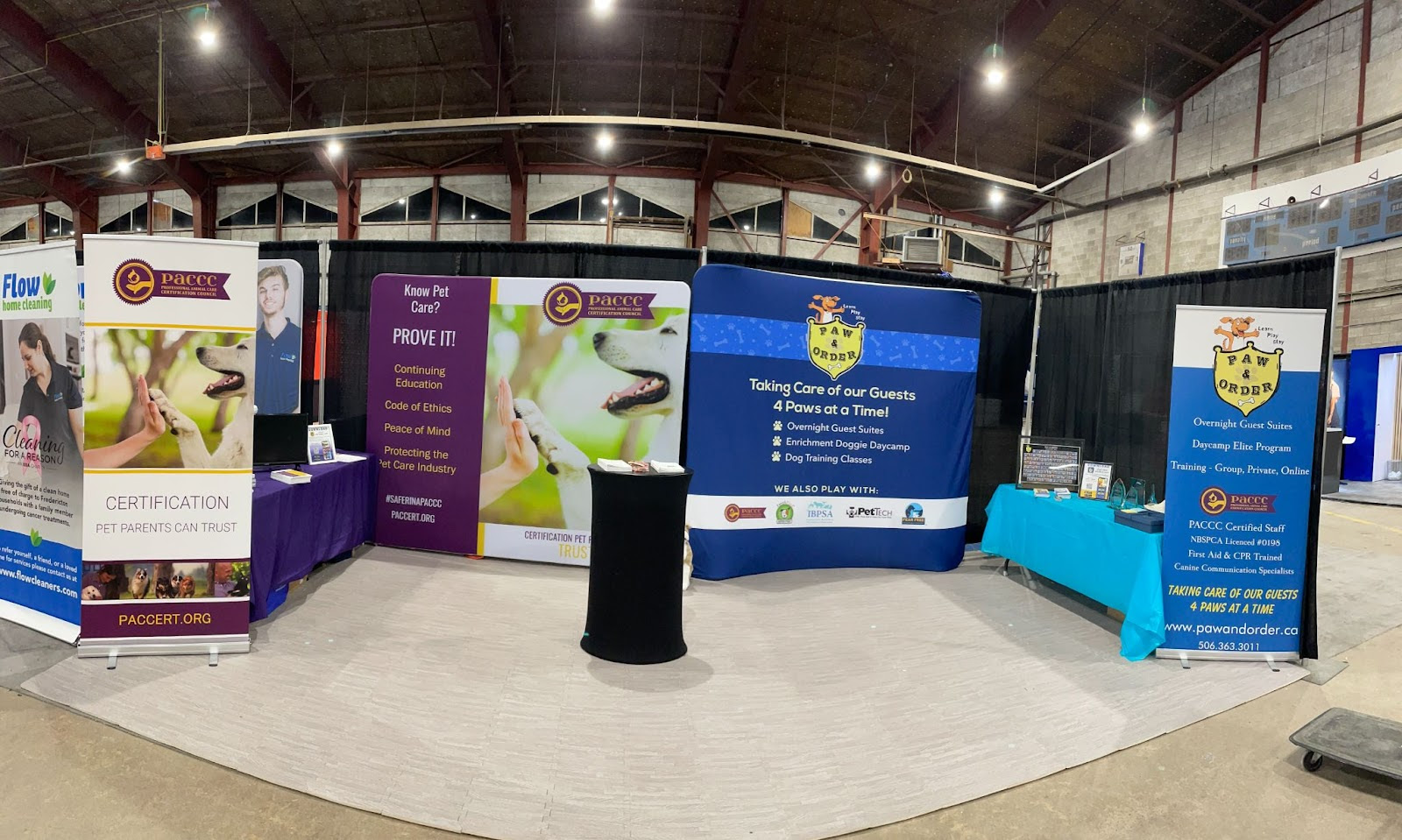 The Fredericton Home Show in New Brunswick, Canada, hosted PACCC alongside the booth for daycare and boarding facility, 'Paw & Order Inc.', which employs several PACCC certified professionals. The mission was to spread the word about the importance of seeking out certified pet care professionals in the community while also letting the public know that there are certified professionals locally. The PACCC team had a wonderful time distributing the checklist of items to look for in a pet care provider to many pet parents while raising awareness about PACCC. A wonderfully successful event!
PACCC Orientation
On May 2. PACCC hosted an orientation session for the new certified professionals. Thank you to those who attended! As a reminder, you can access the recording of the session on the PACCC private Facebook Group for Certified Professionals.
Best Practices Sessions – earn 1 CEU!
Over the next few months, PACCC will be hosting two best practices sessions for Certified Professionals. One will cover Marketing Resources that Professionals can use daily at their business and when they attend conferences with a booth. The other will cover leveraging PACCC Certification with Employee Hiring and Engagement. Each session will count as 1 CEU.
Stay tuned for additional information on these sessions, including dates and where to register, on the Certified Professionals private Facebook Group.
WEBINARS
Thank you to those who have been able to attend our webinars recently! In March, Gingr, who is one of our Diamond sponsors, hosted a wonderful session on leveraging technology in a Grooming setting. Check out the recording here! In April, our other Diamond Sponsor, First Financial Bank, walked us through basic accounting practices for pet care businesses. You can access that recording here. To view any past webinars, visit our Youtube Channel.
CURRENT CERTIFIED PROFESSIONALS
If you are currently certified with PACCC, ensure you have joined our private Facebook group and that your information is up-to-date in our Certified Directory. To modify your personal information, click here.
Recertification Reminder
Several Certificates expire this June and May 31 is the deadline to submit your recertification application. Visit paccert.org/recertification to get started on the recertification process!
CEU UPDATES
Chats with the Chatfields
We have exciting news! You can now access all of the Chats with the Chatfields podcast episodes that count as 1 CEU in a single Youtube Playlist!
Log CEUs on the go with the PACCC App!
T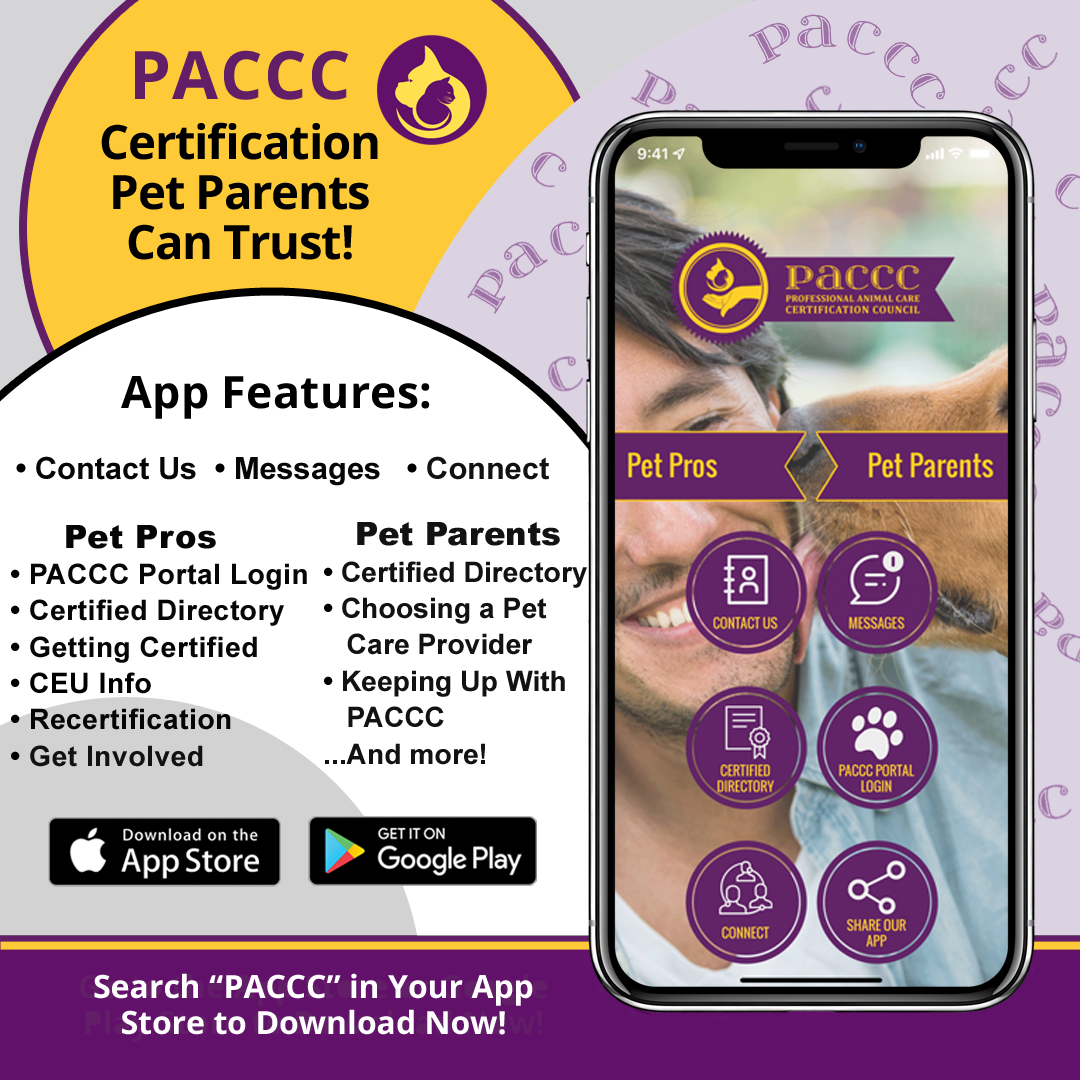 he PACCC Portal makes it easier for certified professionals to track their CEUs. The platform saves the information you input so you don't need to try and remember past CEU programs when you go to recertify. You can access the PACCC Portal on the Mobile app, which is a great way to add your CEUs on the go! Learn more at paccert.org/paccc-mobile-app
New FREE CEU Opportunity!
The following Social Dog podcasts with host, Cindi Carter, are now PACCC-approved for 1 CEU each! Here is a list of the PACCC-approved episodes:
Episode 16 – How to Prepare Your Pets for a Disaster
Episode 89 – The Allergic Pet
Episode 106 – Heartworm Prevention
Episode 118 – Kennel Cough 101
Episode 120 – The Scoop on Your Dog's Puke
Episode 122 – Preventing Matts in Your Dog's Fur
Episode 128 – Heat Safety
Episode 133 – How to Balance Your Dog's Gut
Episode 148 – Benefits of Learning Canine Body Language with Susan Briggs
You can find these episodes at inflowradio.com/shows/social-dog
New Course Joining the CEU Library
Michael Shikashio's Aggression in Dogs Master course has recently become PACCC-approved and is worth 22 CEU hours!
Learn more about this course at aggressivedog.thinkific.com/courses/aggression-in-dogs
MEDIA MENTIONS
CPACO, Kelly Cullum, was recently mentioned in a great article about a training program she is running with foster dogs from shelters. Congrats Kelly! We are so happy to have you as #partofthepaccc!
PACCC SUPPORTER PROFILE
A word from one of our Diamond Sponsor's Gingr
Gingr's user-friendly dog daycare, kennel, and grooming software will modernize and streamline your pet-care business. With industry-leading performance and powerful features, Gingr works 24/7 to help pet-care professionals thrive.
Why Gingr supports PACCC
We believe that the health and safety of pets come first, which is why we partner with the Professional Animal Care Certification Council (PACCC). Gingr users receive a 10% discount on certification exams.
Pet Boarding & Daycare Expo Trade Show Promotion
Through May 12th, Gingr has an exciting show promotion available!  We're offering 2 free months for new customers, waiving start up payments, and data import fees (up to a $900 value!) In addition, all Gingr software users that are PACCC-certified will receive 20% off their subscription for a whole year!
Why wait on streamlining your pet-care business?
Sign up now! (offer expires May 12th).
New Features
You asked, we delivered! Gingr PreCheck is back and it's better.
Gingr PreCheck is the ultimate time-saver for business owners and pet parents alike! Learn more about PreCheck and its features below:
Send timely appointment notifications to reduce no-shows.
Simplify check-in and keep your lobby chaos-free.
Increase your revenue by offering add-on services during PreCheck.
Enable pet parents to verify their pet's belongings, medications and feeding schedules ahead of time to ensure accurate records while eliminating errors.
Plus, with the easy check-in process and a convenient feature that allows them to alert facilities in advance of drop off and pick up, your pet parents will be "paw-sitively" thrilled with the whole experience!
New Facility Calendar
We're excited to share our New Facility Calendar! The new Facility Calendar is an opt-in experience now available in your app and will be introduced to all Gingr customers in the coming weeks. The new version comes packed with some great new features, and we've highlighted our favorites below!
Easier rescheduling of appointments from the Facility Calendar
Book new appointments in fewer clicks
Reference your existing schedule when booking a new appointment
Easily view the status of an appointment
More detailed view to easily see what's most important to you
To learn more about how to enable the New Facility Calendar and all the pawsome features that come with it, check out our article here.