The pet industry continues to grow by leaps and bounds, which means pet parents have more choices than ever before. With new pet care providers opening businesses all around you, how do you differentiate the superior and quality care you provide from that of your competitors?
As a thank you for your donation to PACCC (donation link, below) and your passion for keeping pets safe, we are pleased to offer an informational print-ready "rack card" designed to educate pet parents about the importance and benefits of independent certification for pet care providers and staff.
And why do we need donations? Funds raised are used for professional testing guidance and marketing to raise awareness about pet safety and the importance of independent certification. PACCC currently operates without any paid staff and depends on industry donations to make certification a reality.
As part of your thank you package, along with print-ready files (front and back) for the rack card which also includes space for your business contact information, you will receive the informative guide on how to effectively use the cards: Three Steps for Boosting Your Business with PACCC.
When you share this card with prospective and current clients, you will be demonstrating your commitment to professional pet care education and staff training to ensure the health, safety and well being of the pets in your care. Your involvement and support of PACCC's mission and certification will give you an immediate competitive advantage. Pet parents will trust you and the quality care you provide.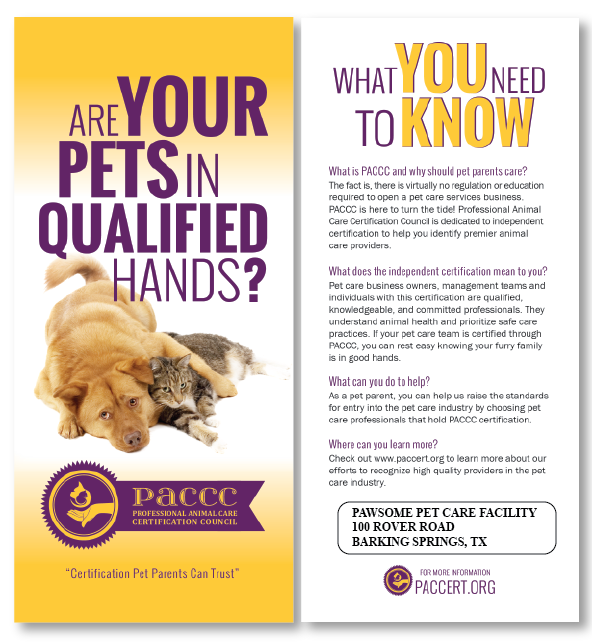 A PACCC volunteer and General Manager of a pet care facility recently wrote:
I had two clients recently sign on with us by mentioning my involvement in PACCC and what changes the group is trying to make in the Pet Care Industry. As I was giving a tour of the facility, both were having difficulty deciding between us and another business in our area, and when I told them all of our selling points they were the most impressed with my involvement in PACCC. Thank you PACCC for all of the good that you are trying to do in our industry and for the positive impact that I am seeing in my facility! – Melissa M. The Dog Eaze Inn
Ready to give your business a boost while helping us spread the good word about PACCC?
Suggested donation for the print-ready files is $50, but other amounts appreciated. After your donation goes through, you will receive an email receipt with a link to download the zipped folder with print-ready rack card files and Three Steps for Boosting Your Business with PACCC guide.